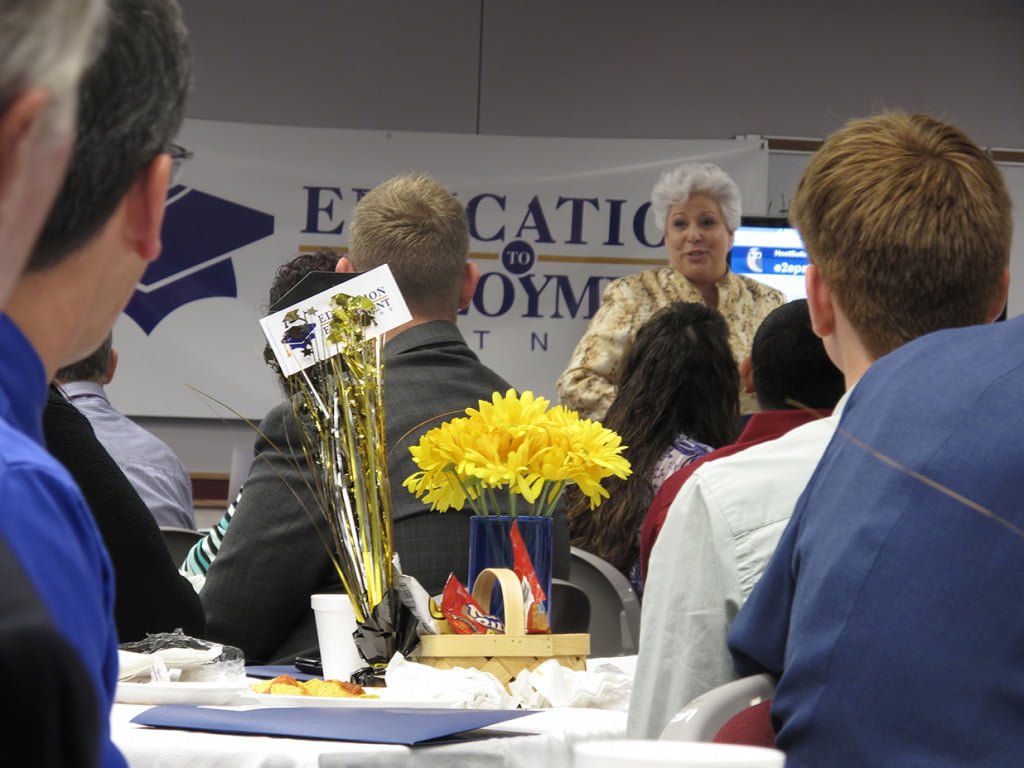 Corpus Christi, Texas (April 9, 2013) – The region's state supported P-16 Council, Coastal Bend Partners for College & Career Readiness, received a new name and brand identity. At its Annual Meeting this month, the six-year-old organization rolled out a new name and logo, Education 2 Employment Partners (E2E), to an audience of 100+ members who represent the region's top education and workforce institutions. To celebrate the occasion, the Council awarded five youth with $1,000 college scholarships.
The unveiling took place on 11:30 a.m., Wednesday, April 17th at the Education Service Center Region 2 in downtown Corpus Christi (209 N. Water St.). A luncheon and name change celebration was planned with special presentations and guests including Mayor Nelda Martinez.
"Our new name better reflects what the P-16 Council does on a daily basis, that is, working with the area's key leaders and institutions to mobilize education and workforce resources in order to create and sustain a dynamic economic engine benefiting all citizens in the Coastal Bend," said Dr. Janet Cunningham, Executive Director of the P-16 Council.
Cunningham says the old name was hard to remember and cumbersome. Given that the Council has a slate of new programs underway, the name change was necessary to position the community's participation and to generate increased awareness and fundraising with partners and stakeholders.
Several of the P-16 Council's new programs to be highlighted at its Annual Meeting include:
Coastal Compass: Plans are underway to open a one-stop resource center at La Palmera Mall that will offer hands-on education and job search assistance to individuals of all ages and backgrounds. When it opens its doors, Coastal Compass will become one of only a few resource centers of its kind in the nation.
Males Achieving Success Alliance (MAS): A new regional taskforce has formed to explore why young males in Coastal Bend achieve the lowest post-secondary participation rates than any other group. The P-16 Council will host a luncheon on Thursday, April 18 with Dr. Victor Saenz a top researcher on the subject.
[separator type="" align=""]
Hi-Res Creative was honored to be involved with the project, providing the creative energies to produce a logo for the Education to Employment Partners. See the logo design in our portfolio.
[button url="http://www.hirescreative.com/portfolio/e2e-partners/" text="E2E Logo" size="small" type="inverse" icon="picture" target="_self"]