Coastal Bend Pride Center
WEBSITE DESIGN / PHOTOGRAPHY / GRAPHIC DESIGN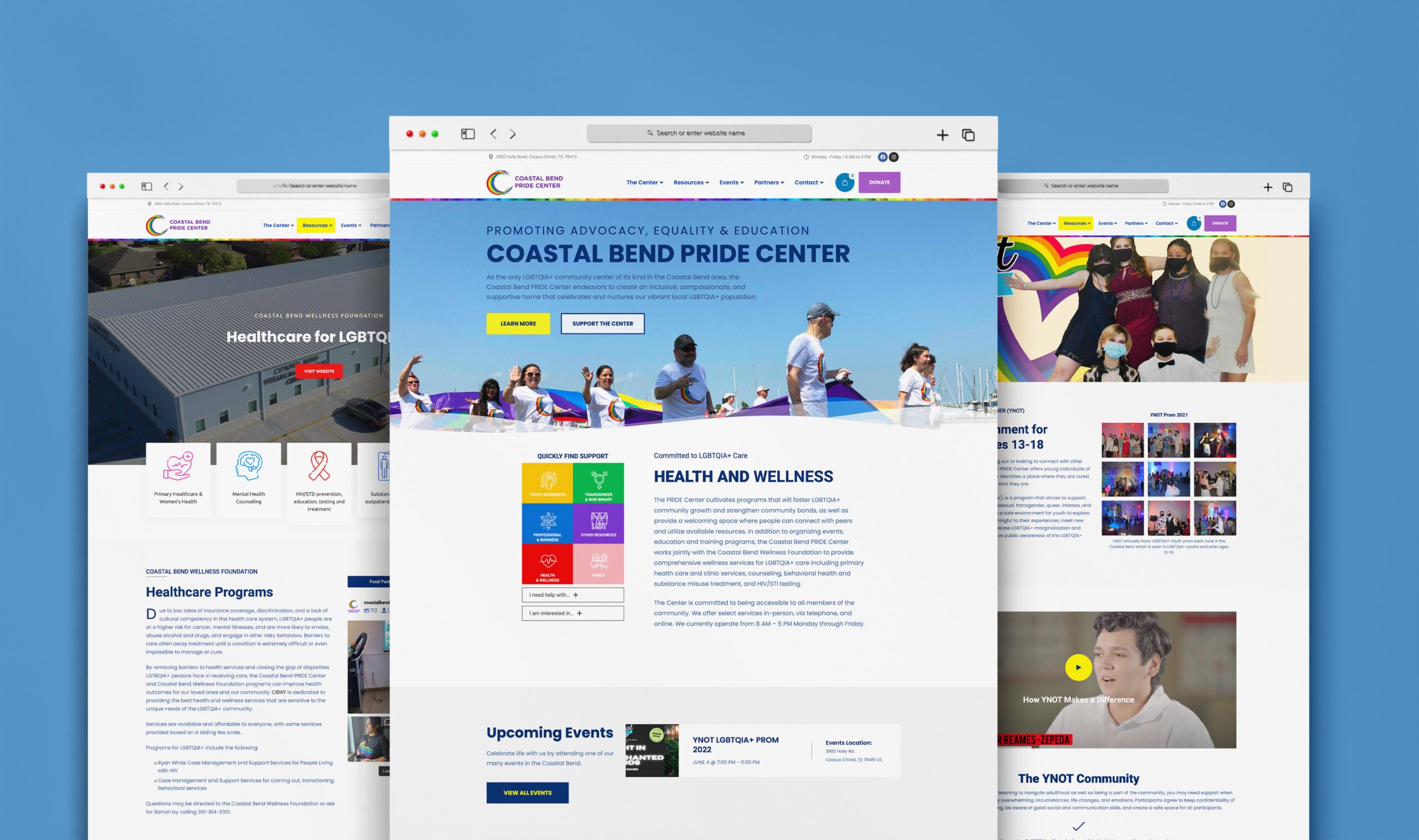 Non-Profit Client Overview
The Coastal Bend Pride Center is an LGBTQIA+ Community Center serving all 12 counties within the Coastal Bend. It is the first and only one of its kind south of San Antonio. The Coastal Bend Pride Center provides the resources and physical space to empower the LGBTQIA+ community in its mission to achieve health goals, fight discrimination and inequality, and promote connections and opportunities in a safe setting.
Responsive Website Design
Initially created on Squarespace with limited functionality, the original website no longer served the organization's needs. A professionally designed site was needed to better represent the organization's array of services available to the community, and HRMG readily accepted the challenge with the utmost care. 
Earlier versions of the site failed to effectively communicate program information to visitors. HRMG's main goal for this build was to make it much clearer what is available to the public and how others can support their mission. With this in mind, we began with the organization's mission displayed visibly and neatly on the landing page. New navigation allows potential clients to quickly access information on available resources and easily scan the numerous services being offered that may be relevant to them. 
As a 501(c)(3) non-profit organization, the Pride Center also relies on donations to continue providing services. Typically, third-party vendors require donors to leave your website to contribute. By utilizing integrations with PayPal, prospective donors remain on the website and can feel secure when giving. The donation system also expands support for cash and other payment gateways such as Stripe if the organization wishes to grow in the future. Notably, the website automatically feeds all event data from its Facebook page. It features support to sell tickets directly on the website without needing a third party with additional fees. High-resolution photos were taken by HRMG of Pride Center staff during PRIDE 2019. These photographs highlight the center's team in action and complete the look for a customized and appealing design worthy of the Pride Center and its cause.
Search Engine Optimization
The quality and type of content on a website's pages are essential to your user experience. Upon review, many of the organization's current services were not presented on the site. By neglecting this content, the Pride Center missed the opportunity to share the benefits of these programs with visitors.
Utilizing informational keywords can be valuable in growing brand awareness, increasing the chances to educate the community on assistance and events they can expect from the Pride Center. HRMG's SEO content specialist Shanna Swindle worked with the Pride Center director to craft detailed copy for each page to resolve this. Beginning with program summaries, keyword research was then conducted to further identify potential clients' needs. Finally, each section concludes with a call to action and additional resources, creating internal links that help reduce the bounce rate and boost rankings.
Technical Considerations
Built on WordPress, this responsive website was carefully optimized page by page for mobile devices, allowing for a friendlier user experience across any device. A better user experience will reduce bounce rates, boost conversions and improve your brand's perception. Images were compressed and converted automatically into WebP format. Using WebP images, we create smaller, richer images that allow your site to run faster. As with all websites developed by HRMG, the website was built on Litespeed for faster load times. An SSL certificate was set up for HTTPS web traffic, keeping user data secure. 
The work Coastal Bend Pride Center does is crucial for the LGBTQIA+ community. HRMG is honored to support representing it online. We look forward to the opportunity to continue to uplift and nurture beneficial programs and organizations for years to come. If you are interested in working with HRMG, please get in touch by calling (361) 816-7708.
Graphic Design
Branded design and graphics produced for social media to help elevate the brand. All advertisements and other misc. graphics produced to transition the brand into a new identity over a gradual process.