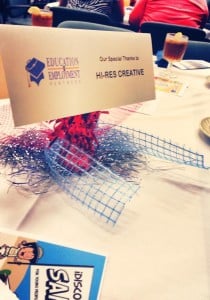 Hi-Res Creative is proud to be a partner in supporting the expansion of educational and professional opportunities in the Coastal Bend by having sponsored a table at the Education to Employment (E2E) Partners' fundraising luncheon held on Friday, September 20 at the Del Mar College Center for Economic Development. The event featured an interactive panel that afforded area educators and businesses the opportunity to discuss the impact of the 83rd Legislative session at the Texas Capital with local representatives and how it would impact our local schools, workforce and community.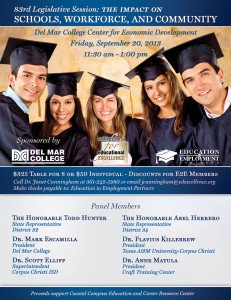 Among the list of distinguished panelists that were on hand for the event were The Honorable Todd Hunter, State Representative, District 32, Dr. Mark Escamilla, President, Del Mar College, Dr. Scott Elliff, Superintendent, Corpus Christi ISD, The Honorable Abel Herrero, State Representative, District 34, Dr. Flavius Killebrew, President, Texas A&M Corpus Christi and Dr. Anne Matula, President, Craft Training Center. Topics during the panel discussions included details about the future expansion of Corpus Christi and its surrounding areas. The addition of several multi-million dollar ventures including the construction of a Schlitterbahn waterpark and the arrival of several foreign manufacturing companies from Australia and China to the area point to a very bright future for the city's economy and workforce.
All proceeds from the event will be used to support one of Hi-Res Creative's clients, the Coastal Compass Education and Career Resource Center, which is located in the La Palmera Mall.