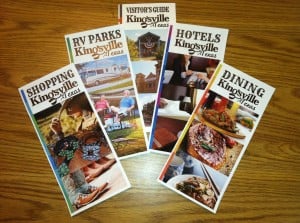 Hi-Res Creative has just completed work on the first batch of a new line of brochures for the City of Kingsville Tourism Department and Visitors Center. The five brochures showcase beautiful photos of local and regional highlights provided by Kingsville photographer Patti Trujillo and each features information regarding a specific area of tourism including:
Visitor's Guide – Get to know the city with this colorful visitor's guide that features a calendar, a list of tourist attractions and a large customized map designed by our creative team that showcases the city, its historic downtown shopping district and the surrounding Cowboy Coast.
Shopping – Keep this pocket guide handy when you're in the mood for some retail therapy at some of the quaint shopping venues that dot the city's historic downtown area.
Hotels – Know exactly where to book your stay in Kingsville with this convenient brochure that features a list of area hotels that comes complete with ratings from TripAdvisor.
RV Parks – Whether you're looking to stay in the area for just a few days or a bit longer, learn more about local RV park communities and all of their amenities.
Dining – Find out exactly where to go to whet your appetite with some quintessential cowboy cuisine with this useful guide to some of most delicious restaurants and eateries in town.
More brochures are still in the works, but you can pick up any of the brochures today at the Kingsville Visitors Center or find them online at KingsvilleTexas.com.