The Journey
From Corpus Christi to Marfa, Texas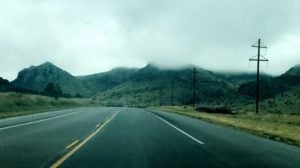 A few weeks ago, I traveled eight hours to personally experience a city in West Texas known as Marfa. What was once a sleepy, rural town, surrounded by the ethereal and mountainous area of the Chihuahua Desert, Davis and Chisos mountains, Marfa has established itself as one of the most highly sought after spots for curated art and creative inspiration.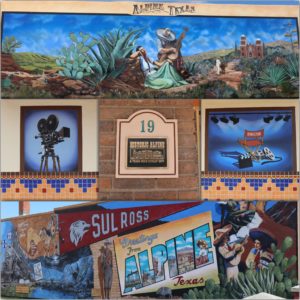 I prepared for the drive by packing snacks and choosing music, including Solange Knowles', A Seat at the Table and Frank Ocean's blond and Endless, to guide me to this creatives' escape.  When I entered Alpine, thirty minutes from Marfa, for the first time my ears popped, due to the altitude, and I felt a sense of clarity I had never before experienced; it was like complete reboot of my mind and senses as a result of my location to the earth.
Alpine's weather was a perfect 55 degrees, when I was checking into my motel. Once I was settled, I ventured into town to check some of the local thrift shops to acquire clothes suitable for actual fall weather; which was a welcomed change from dealing with South Texas' "forever summer" climate. Driving through Alpine, reminders of the varying political views on the upcoming presidential election could be seen on local lawns, banners for homecoming weekend were hung over every street, and there was a feeling of community present that was a refreshing familiarity I grew fond of immediately.
Chinati Weekend
Chinati Foundation's 30th Anniversary 

Chinati weekend is a three-day, town-wide celebration that incorporates local galleries, businesses, and artists to commemorate the community that has become established there and welcome travelers interested in the arts, that want to revel in the mystic of this town. Friday's opening events, "Made in Marfa", included multiple art installations located throughout the town, artist discussions, music, food and wine; all free to the public. Visiting art savants, mavens, and appreciators, using the infographic maps provided, are obligatorily given access to an exploratory and engaging inculcation towards the treasures to be detected throughout Marfa.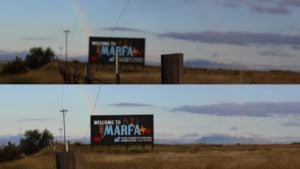 Truly, Marfa is an escapists' paradise that must be experienced to understand it's value. Marfa exudes an aura of mystique that can only be explained through the rurality that is accomplished by being so removed from the stifling constructs of the city.

Marfa Art Galleries
For the Minimalist
Ballroom Marfa: The Institute for New Feeling with Antonio Bandini collections were the main exhibits displayed when I visited Ballroom Marfa and the installations focused on numerous artists' interpretation of the theme of technology. The main display within Ballroom Marfa utilized an ironic composition of products and their uses, that the artists, from the institute for new feeling, chose to interpret as futuristic modern models of items; like fragrance bottles titled "Hit Song". Ballroom Marfa's This is Presence exhibition, also, included the artist film international 2016, Ditherer Virtual reality experience, and a short film from the Institute for New Feeling that analyzed our connection with technology and how it acts as our main source of guidance by seeking answers through the internet. In the courtyard area of Ballroom Marfa, the works presented by Arturo Bandini incorporated an understanding for the uses of tools we have used to help us advance as a society and infused varying emotions of nostalgia to wonder while walking though the installations.
Marfa Contemporary accommodated "How Things Are" by Francisco Ugarte. His exhibition incorporated the use of the galleries floor and wall space to present expanded and exaggerated minimal structures that focus on the idea of perspectives. Outside of the gallery were a collection of steel sculptures that have a commanding presence and partnership with the use of light and shadow that is constantly changing throughout the day. Inside the Marfa Contemporary space were minimal installations that allowed the viewers to contemplate the artist's interpretation of simplistic items and structures that usually are looked at without a second thought.
Binder: Located downtown, the Eugene Binder Gallery hosted paintings by Paul Kremer and sculptures by Clark Derbes. The sculptures by Derbes were, especially, impressive; incorporating flat and 3-dimensional forms and an attention to geometric pattern and carving detail on the surfaces of each piece.
Kruger: 
Rodrigo Lara Zendejas, "Narrativas Del Expatrido"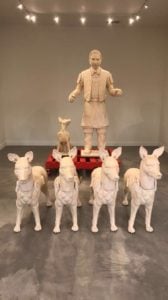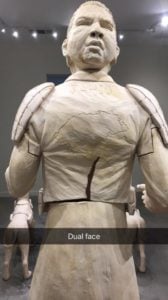 Zendejas' sculptures were inspired by the Xin Dynasty, terracotta warriors and are reflective of Mexican Immigrants that have come under attack during the recent presidential election. His work highlights an indebtedness to the marginalized groups within our own borders by representing the idea of strength from our ancestry.
Zendejas' plays with the idea of forms of identification by creating wooden ID's, with the same double-faced structure he uses in his sculptures, that represent the two forms of identity an immigrant has to become to sustain living in the U.S.
Zendejas' creations are meant to act as a form of resistance to the xenophobic rhetoric and remind people that most immigrants have done was in defense for the United States and to strengthen the country they considered home.
Marfa Open: 
Linn Phyllis Seeger, "I Will Tell You About It Because I am Here and You are Distant"
Linn Phyllis Seeger's photography exhibition of stills capture the interpretation of migratory nature of humans and the longing for a utopian society. Seeger's photos contrast color schemes and simplistic imagery that evoke serene sentiment to the viewer. Each photo produces more feeling than the last and provided an expression of life that, mostly, goes unnoticed. Seeger's still images provided a view of life that is indicative of escapism.
Collective Connections
Inspiration to Bring Back to Corpus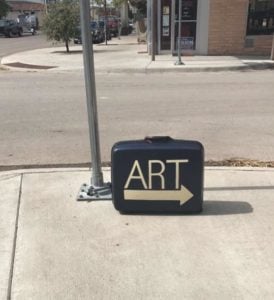 When I arrived in Marfa, I felt a vague familiarity that was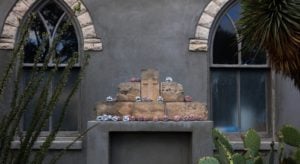 indicative of my own upbringing in the small South Texas town of Bishop. The resemblance between Marfa and Bishop caused an instantaneous emotion of connection to my surroundings that pulled me from my normal introverted nature and allow myself to embrace inspiration from every angle. I wandered through the poorly paved streets, followed sidewalks that led me to areas otherwise hidden, and happened upon oddities and beautiful structures set throughout the city's limits.  Walking through town, there is something to be viewed at every corner; the smallest of rooms will lead you to the most interesting exhibits and the attention to detail placed into each unique collection is something to be respected. The local residents are courteous and respectful; I met a group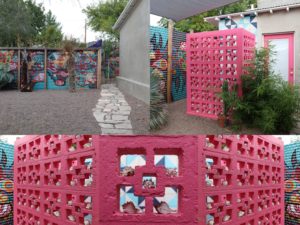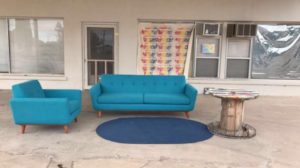 of friends that travelled all the way from California to take part in Chinati's celebration. I was treated, especially, well by the staff at Ballroom; they had been so open with conversation and told me about past exhibits and what made them stay in Marfa, and one member of the Ballroom team gave me a commemorative sacred heart pin from the Ballroom merchandise collection.
My true purpose for this celebratory trip to Marfa was to introduce myself to a different interpretation of life in a small town and the value that can be held there for the arts. While Corpus Christi is a place I have always been able to refer to as home, it can be a stifling place, at times, for an artist to truly expand their ideas and visions of creativity and, still, have it appreciated. The collections that were most inspiring, to me, were from sculptor, Rodrigo Lara Zendejas and, photographer, Linn Phyllis Seeger. Each of these artists, while having varying styles of artistic portrayal, were able to capture my full attention and wonder with their works. Zendejas' artistic interpretation inspired me to find influence through historical and current events and find symbolism between the two to create something transcendental. Seeger's work was like viewing stills from the most beautifully framed and composed indie-film; each image emitting more emotion than the last, her work has shown me to find material that is simplistically beautiful. When I arrived back in Corpus Christi I realized I needed to visit Marfa to revitalize my soul with an immersion into an artist's paradise and recalibrate my brain by removing myself from the city. By doing so, I have since been finding inspiration throughout Corpus that had before gone unnoticed and I feel more confident in my work every day, whether that means assembling a new collage or creating short film ideas. If you are a creative that has been feeling like escaping the confines of your city or town, I strongly suggest packing up, curating playlists, and embarking on the journey to experience Marfa.