3 Reasons Why Snapchat Changes all the Rules
Success in the tech world can mean a lot of things. Is it an app that dominates the social media landscape with over 10 billion views per day? Is it fostering more intimate connections while simultaneously reinventing the way content is shared? Or is it garnering $18 billion in revenue over the last year? For Snapchat, it can very well be all of the above.
The idea for the popular app came about in April of 2011, when founder Evan Spiegel was taking a product design course at Stanford University. While the class was skeptical of a mobile app that deletes photos and videos, Spiegel officially launched Snapchat just five months later. By October 2012, Snapchat had nearly 10 million active users and was quickly becoming a force to reckon with, especially amongst the coveted 18-24 year old demographic. Today, Snapchat is the most used social platform for young people with almost 50% under the age of 25 and over 100 million active users—with 133,000 more joining each day. So what exactly makes this app with disappearing content the social network de rigueur? Lets take a closer look.
Snapchat Stories
Snapchat stories were launched in October 2013, ushering in a powerful new tool that made communicating on the social network much more personal. Unlike other platforms where users must scroll endlessly through a mass of content, Snapchat presents stories chronologically, offering an intimate, uninterrupted look at users' streams. And much like in real life, the moments are fleeting; disappearing for good after 24 hours. Whether following a celebrity, a brand or your best friends, there is something to be said for the raw moments and one-on-one feel that Snapchat employs.
Snapchat Discovery
Another interesting innovation that has paid off for Snapchat is a feature called Discovery. In January 2015, a dozen media companies became publishers on Snapchat, offering exclusive (and disappearing) content for users who could watch stories, video, and read content without leaving the app. Positioned just above the app's stories, companies like Comedy Central, Food Network, BuzzFeed, MTV and Mashable directly position their content in front of users for a mere $750,000 a day.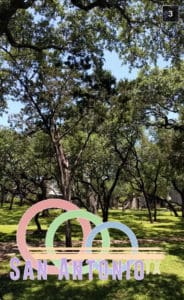 While most businesses and organizations may not have marketing budgets on that scale, Geofilters let you create and design graphics to be placed over your snap when they are taken in a specific area. Custom Geofilters can be ordered to promote businesses, cities, universities, weddings, and special events.

Snapchat Instant Messaging
Its instant messaging feature also helps keep Snapchat users in the app to continue the conversation. Swiping up while viewing a friend's story to send them a message is a lot more convenient than exiting the app to text or email them. Photos and videos can also be sent privately within the private messages, again offering that one-on-one conversational feel. The chat feature also comes with friend emojis that appear by names on your friends list to denote everything from who your chat BFF is, to snap streaks (daily communication) with your best friends, to who your newest friends are.
As it continues to evolve and become a more powerful communications and sharing tool for users and marketers alike, one thing is clear: its content may disappear, but Snapchat looks like it's here to stay.